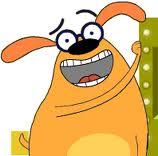 Ruff Ruffman
Edit
Ruff Ruffman is the host of Fetch With Ruff Ruffman. He is voiced by Jim Conroy.
Ruff is a mutt who hosts the show. He doesn't like cats (Although he is somewhat friends with Blossom) and thinks that dogs are better than cats. He has a crush on Charlene, a poodle. He had Murray, one of his cousins who helped Ruff but then he quits in Season 4 when because he stole a really valuable sled. He got replaced with Tank. Henry is Ruff's boss who has never been seen and is only heard in phone calls. He has two interns, Blossom & Chet. He first doesn't like the, but starts to becomes closer to him. He has a rival named Spot Spotnik as well as an evil twin named Scruff. He also as two parents named Wink & Dinah. He is shown to have a grandma named Grandma Ruffman,a great-great-great-great-great-great grandfather named Ruffael Ruffmanowitz,a great uncle named Great Uncle McRuffmantosh, a great-great-great-great uncle named Gus Ruffman, 3 cousins named Helga,Rüf Rüfman & Bluff, a nephew named Glen & a sister named Roxy Ruffman.
On the website, one of the grand prizes reveals his real name. It is Ruffilicious Ruffkins Ruffman.